Luxembourg, 23rd September — Tokeny Solutions has announced the recognition of the T-REX protocol as ERC3643. The open source suite of smart contracts enables the issuance, management and transfer of permissioned tokens and is already used by large financial institutions to tokenize real-world assets.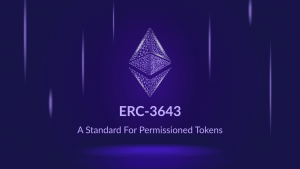 The Ethereum community has officially merged the T-REX protocol in its GitHub repository of EIPs as ERC3643, making it an official standard for permissioned tokens. The ERC3643 allows actors in capital markets to interact with DeFi and the broader digital assets market in full compliance.
Amidst its continued explosion in growth this year, regulatory bodies around the world are getting ready to clamp down on the DeFi space. According to DeFi Pulse, in the first half of 2021, the total value locked (TVL) in the space by users grew from $25bn to $70bn, almost 180%. With this in mind, the space has now firmly caught the attention of regulators, and their focus will be turned to any actor not following regulatory obligations.
The ERC3643 allows actors wishing to interact with digital assets to ensure their activities remain compliant with global regulatory requirements. Since its inception in 2018, the standard has been used to issue security tokens worth over $8.5bn across in 180+ jurisdictions via the T-REX platform. It does this through the use of permissioned tokens and digital identities, i.e. tokens that can only be sent or received based on the verified credentials of investors.
These tokens are fully controllable by their issuer and can be recovered even if the private key of the wallet holding them is lost, as the ownership of the assets is guaranteed by digital identity. In the same way, the ERC3643 can represent cryptocurrencies, stablecoins, fiat currencies and NFTs to ensure compliance and ownership for both investors and responsible entities.
ERC3643 is compatible with the well-known ERC20 standard, enabling interoperability with any wallet of the Ethereum ecosystem. Also, it can be deployed on any Ethereum Virtual Machine (EVM) compatible blockchains, sidechains and Layer 2 solutions. Concerning security, the standard has been audited and confirmed by cybersecurity firm Kaspersky. Meanwhile, the ERC3643 is licensed under CC0 1.0, allowing developers and companies to contribute, copy, modify, distribute and develop the standard.